Units and Pricing
We have a variety of unit sizes to meet most storage needs. We have heated and unheated storage units and outdoor parking for boats and RVs. If the unit size below says "Waiting List", this means we do not currently have any available units in that size. If you click on "Waiting List", you can submit your contact information and we will notify you when your preferred unit size becomes available. If we have units available in your preferred size, you can reserve a unit. You can reserve through the website, or you can reserve by calling the office at (360) 331-3303.

We do not charge a fee to reserve our units. If you reserve through the website, your credit card will not be charged.
You can pay when you move-in via credit or debit card (online or in person), check or cash.

5'x4' Heated (4 x 5)
5'x4' Unheated (4 x 5)
5'x10' Heated (10 x 5)
5'x10' Unheated (10 x 5)
10'x10' Heated (10 x 10)
10'x10' Unheated (10 x 10)
10'x15' Heated (15 x 10)
10'x15' Unheated (15 x 10)
10'x20' Unheated (20 x 10)
10'x25' Unheated (25 x 10)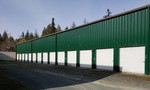 Parking (12 x 30)